Parallels is a series of talks in which guest speakers explore their profession in the context of design. Started in 2008, from silkscreen, code, copywriting, food, wine… AIGA Miami connects with all professions in a casual dialog that goes beyond design.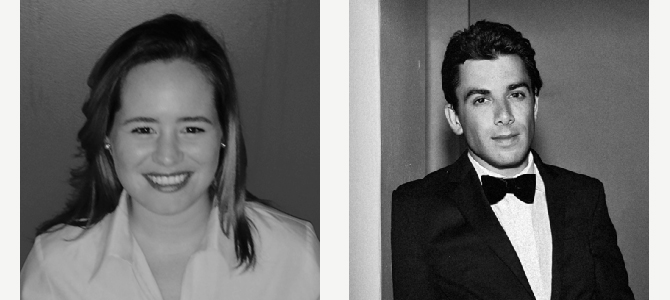 Attorney Christopher DiSchino and UN Consultant Haydee Izaguirre will speak at AIGA Miami's PARALLELS: Legal Matters event on March 30. They will discuss legal issues critical to a successful design practice.
ABOUT THE SPEAKERS
Christopher DiSchino is the founder and principal of DiSchino & Company, PLLC. With a knack for the creative and an entrepreneurial attitude, Christopher specializes in business law, intellectual property and corporate transactions, assisting private clients and corporate entities to establish and expand their businesses domestically and abroad. His experience allows him to create value for his clients by using resourceful structuring techniques to help minimize unnecessary costs and risks.
Prior to founding DiSchino & Company, Christopher worked in the fashion, hospitality and non-profit industries. Working in a fast-paced, international environment provided him with an intimate understanding of the business climate in which his clients operate as well as a knowledge-base that extends far beyond the legal field. Christopher's domestic client base consists of artists, designers, entrepreneurs and established businesses. Christopher's international practice focuses extensively on inbound foreign investment in the United States for individuals, foreign businesses and multi-national corporations. Christopher also handles private securities transactions, mergers and acquisitions and the restructuring of privately-held companies.
Christopher also has passion for giving back to the community. While still in college, his zeal for philanthropy led him to co-found The Paradise Fund, a nationally recognized, non-profit organization with headquarters in Palm Beach, Florida and branches in both Miami, Florida and New York City. Through the Paradise Fund, Christopher is dedicated to serving the needs of underprivileged children both locally and abroad. Christopher also sits on several boards and committees of charitable organizations across South Florida.
---
Haydee Izaguirre is a development consultant with extensive experience developing and managing donor funded programs related to the implementation of technologies for development. Haydee's research explores the intersection between technology and human rights; mainly focusing on how innovations can address some of the problems affecting marginalized communities. Her work focuses on addressing human development issues such as violence against women, maternal health, youth engagement, community building and education. She has worked with several UN agencies, international development banks and foreign ministries.
Haydee is also the founder of SOS Worldwide, an independent non-profit organization that increases the visibility of and public debate around human rights abuses worldwide through the use of innovative social media strategies. Check them out at www.sosworldwide.org or get in touch at @worldwide_sos
She will be joining us to discuss project design and development from a human rights perspective. She will focus on the sensitivities, bureaucracy and legal issues related to creating these sorts of programs. Using past projects Haydee will show the challenges and benefits of working in a multi-disciplinary team. You can reach out to her on twitter @haydeeiz or LinkedIn.