2016 Get Out The Vote in Miami-Dade
EMPOWERING LATINO VOTERS
AIGA's non-partisan, apolitical Get Out the Vote campaign wields the power of design to motivate the American public to register and turn out to vote in the 2016 general election.
With a Spanish-language campaign airing on TV Azteca, we are reaching 89% of Latinos nationwide with an important message: This year, your vote is a serious matter.
Now, AIGA Miami is turning our focus local to create massive impact among Latino voters in Miami-Dade county. Here's a look at the campaign and the opportunities.
The Campaign: "ESTE AÑO, TU VOTO ES COSA SERIA"
This year, your vote is a serious matter. Nearly 30% of the US population will be Latino by the year 2050, yet only 48% of Latinos eligible to vote turned out on election day in 2012. The policies under discussion during this election make it imperative that Latinos take a more active role in the democratic process that will shape the future of their community and of the country at large.
In this powerful PSA that's playing nationwide on TV Azteca, actor Edward James Olmos activates our call to action to reach approximately 43 million people, or 89% of the Latino population in the U.S.
While this PSA airs nationwide, we are building a massive voter engagement campaign specific to our community at home. We will saturate Latino neighborhoods with this nonpartisan, apolitical message of voter empowerment.
Steps to build the campaign
1. What's the lay of the land?
Over 1 MILLION LATINOS in Miami-Dade county are not active voters. Over 250K MILLENNIALS are not active voters.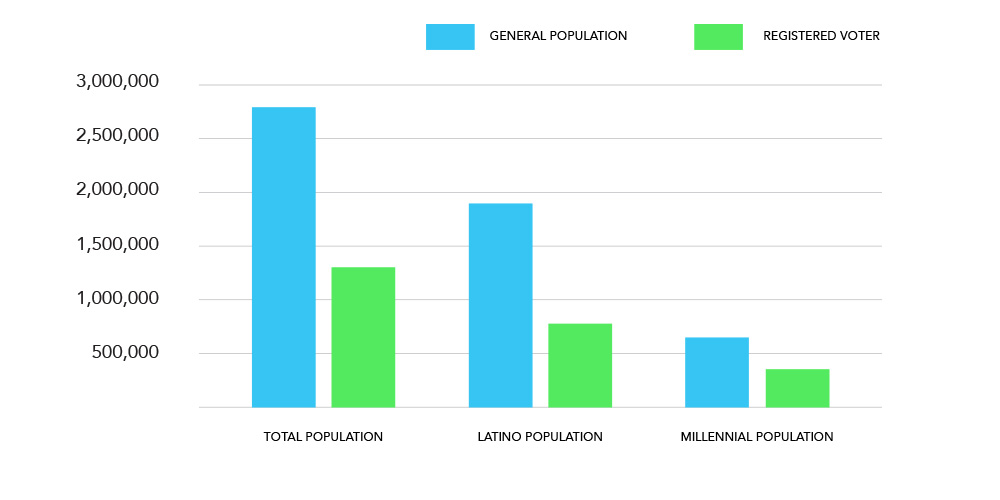 MIAMI-DADE OVERALL POPULATION
Miami-Dade County total population 2,712,952
Miami-Dade Latino population 1,792,650
Miami Dade Millennial population 619,679
MIAMI-DADE REGISTERED VOTERS
Miami Dade County Total Voter Registration 1,281,422
Miami Dade County Latino Voter Registration 728,925
Miami Dade Millennial Voter Registration 357,714
2. Where do Latinos live?
Miami-Dade County top 20 zip codes with largest numbers of Latinos – concentrations in western and southern portions of the county.
33012 70,588 (95.17%) HIALEAH
33015 58,236 (82.17%) HIALEAH
33186 53,009 (73.11%) MIAMI
33175 52,326 (92.36%) MIAMI
33125 51,692 (91.80%) MIAMI
33165 51,633 (90.52%) MIAMI
33018 47,978 (93.78%) HIALEAH
33016 46,434 (93.19%) HIALEAH
33010 46,222 (94.95%) HIALEAH
33126 45,574 (91.64%) MIAMI
33177 45,050 (76.88%) MIAMI
33193 44,006 (87.56%) MIAMI
33178 41,153 (77.38%) MIAMI
33033 41,122 (67.98%) HOMESTEAD
33196 38,783 (77.71%) MIAMI
33172 37,832 (91.53%) MIAMI
33155 37,641 (82.77%) MIAMI
33014 37,457 (86.60%) HIALEAH
33135 35,477 (93.41%) MIAMI
33142 34,529 (60.58%) MIAMI
3. What's in the neighborhoods?
Latin-focused grocery and retail – inside neighborhoods where people live.
Sedanos (29 locations)

Presidente (19 locations)

Sabor Tropical (8 Locations)

Bravo (6 locations)

Publix Sabor (7 locations)

Navarro Pharmacy (13 locations)

Pollo Tropical (22 locations)
4. Where will we run this campaign?
BROADCAST
Local Television (16 Full – Power TV stations)
Local Radio (54 within Close Distance)
OUTDOOR, TRANSIT, STREET FURNITURE
Outfront Media – Transit (Bus, MetroRail, MetroMover), Transit Shelters, Bulletins / Posters
Clear Channel – Bulletins / Posters (digital + traditional), some Airport, Transit Shelters
Signal – Bus benches, street furniture, and some Transit Shelter
Carter Outdooor – Bulletins
JC Decaux – Airport and Retail (Dolphin Mall)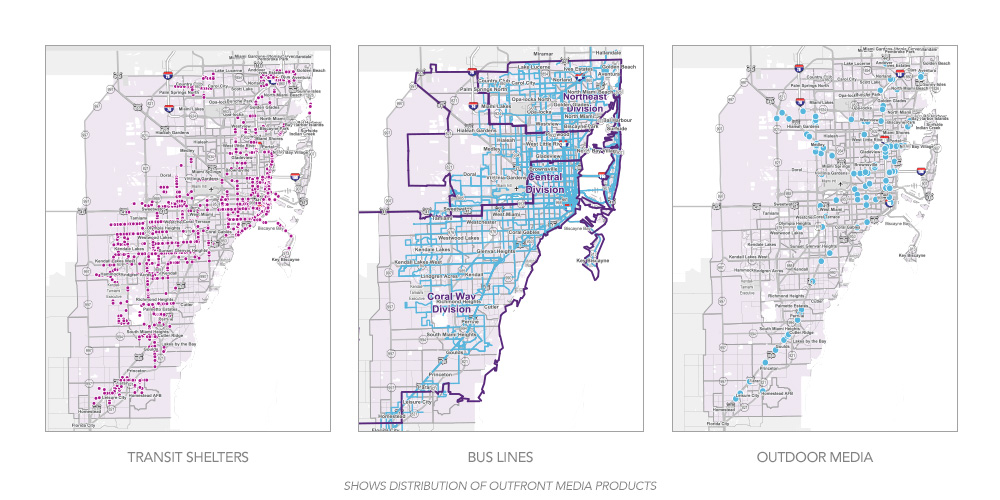 PUBLISHING
The Miami Herald / El Nuevo Herald
The New Tropic
Miami New Times
The Atlantic
SANITATION SERVICES
Ads on county and municipal garbage trucks that go deep into neighborhoods, where traditional advertising doesn't penetrate
5. How will we move forward?
MEDIA PARTNERSHIPS
PSA placement in local television, radio, outdoor, publishing, street furniture, transit vehicles, sanitation trucks.
PRINTING PARTNERSHIPS
Assistance in producing the vinyls and posters to populate outdoor boards, bus shelters, bus benches, transit vehicles.
RETAIL PARTNERSHIPS
Funding for printing of vinyls and posters, and / or placement of campaign materials in high-visibility retail environments.
COMMUNITY PARTNERSHIPS
Community organizations distribute posters of the campaign in their neighborhoods through existing channels
TIPPING POINT
From Hialeah to Little Havana to Homestead, concentrated Latino communities throughout Miami-Dade will be saturated with the "Tu Voto es Cosa Seria" campaign, creating a powerful sense of urgency and solidarity.
6. How will it benefit our partners?
DEMONSTRATE COMMUNITY VALUE
By participating with AIGA Miami in this non-partisan, apolitical voter engagement campaign, you have the opportunity to demonstrate commitment to a thriving, strong Latino community. Because we are approaching this in a hyper-local way, your brand will be seen right in the neighborhoods where your customers or clients live and work.
CREATE A POWERFUL PROFILE
Advocating for the civic life of your customers and clients makes you part of their lives in a new way. In partnering with AIGA Miami and putting your name on this project, you rise to a new level of significance in your customers' eyes.
JOIN A NATIONAL CAMPAIGN
Take part in something really big. We're on national television with the "Cosa Seria" campaign, reaching 89% of Latinos around the country –and you have the opportunity to join in this effort.
MAKE LASTING IMPACT
There are over 1,000,000 Latinos in Miami-Dade county who are not active voters. Together, we can empower record numbers of Latinos to turn out to vote in November elections.
LATINO VOTES COUNT
Historically, elections results in Florida have had major impact in the national decision, so it's more important than ever to ensure a powerful Latino voter turnout in Miami-Dade county.